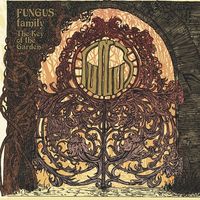 Label: Black Widow Records
Anno: 2019
Genere: prog
Dopo gli album "Better Than Jesus" (2010) e "The Face Of Evil" (2014), i Fungus Family pubblicano "The Key Of The Garden", continuando a permanere in un alveo progressivo con vaghe tinte hard e psych.
La scomparsa del loro fondatore AJ Blissett, nel 2015, comunque accreditato quale compositore, non intacca la qualità sonora di un album che attinge chiaramente dagli anni '70, non soltanto da Pink Floyd e Family (di cui il gruppo coverizza rispettivamente "See Emily Play" e "The Weaver's Answer"), ma anche dai Sabbath più riffettari, di cui talvolta paiono richiamati i ritmi pesanti e cadenzati. In "Suite n. 5", la formula pare squisitamente italiana, con riguardo specifico alla PFM d'annata.
La presenza dell'ex Hawkwind Nick Turner (flauto e sax in "Eternal Mind" e "Becoming To Be"), pone un blasone meritato su un disco che guarda con rispetto a tradizioni sonore piuttosto lontane nel tempo, ma sempre assai apprezzate.
Tracklist:
1 Suite n. 5 (part 1)
2 Eternal Mind
3 Demo-crazy
4 1q84
5 Becoming to Be
6 Suite n. 5 (part 2)
7 See Emily Play (Pink Floyd Cover)
8 Holy Picture
9 The Weaver's Answer (Family Cover)
Line-up:
Alejandro J. Blissett: Composer
Dorian Deminstrel: Lead & Backing Vocals, Acoustic Guitar
Carlo "ZeroTheHero" Barreca: Bass & Noises
Alessio "Fuzz" Caorsi: Electric Guitar
Claudio Ferreri: Organ, Piano & Keyboards
Cajo: Drums
featuring:
Nik Turner: Space Saxophone (Becoming to Be) & Magic Flute (Eternal Mind)
Daniele Barreca: Percussions (The Weaver's Answer