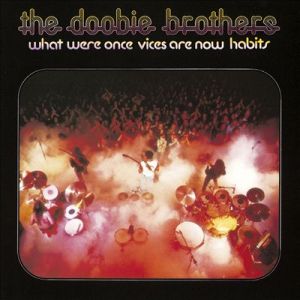 Quarto lp dei Doobies, che reggono bene alla pressione di dover scrivere un'altra "Long Train Running", il loro pezzo certamente più conosciuto (una curiosità estemporanea: pochi sanno che questo grande classico fu proposto - con il titolo "Manie" - in una improbabile versione italiana interpretata dalla cantante Silvana Aliotta, peraltro fuori tempo massimo, visto che questa usanza era in voga negli anni '60 ed era quasi del tutto sparita nei '70 inoltrati). Non solo ci provano con il brano "Eyes Of Silver", ma tirano fuori ancora un grande album (anche grazie alla magistrale produzione di un Re Mida del rock, quel  Ted Templeman che ritroveremo, tra gli altri, negli efficacissimi Van Halen di fine '70, inizio '80), tra l'hard di "Road Angel", il funk di "You Just Can't Stop It" ed il boogie di "Down In The Track".
Il pubblico li omaggiò a dovere: "Black Water" vendette milioni di copie e fu il primo singolo della band a raggiungere il n. 1 (mentre "Another Park, Another Sunday"  ebbe un più "moderato" successo, fermandosi alla posizione n. 32). 
Bacio accademico per il posterone incluso nella confezione in vinile e la (a dir poco spettacolare) foto presente in copertina (scattata sul palco, ma da sopra), che ritrae, tra gli altri strumenti, due batterie dalla composizione magniloquente e un artwork sublimato da colori altamente suggestivi.


 







Tom Johnston: Guitars, vocals
Patrick Simmons: Guitar, vocals
Tiran Porter: Bass, vocals
John (Little John) Hartman: Drums
Michael Hossack: Drums
Additional Musicians
Keith Knudsen: Backing vocals
Jeff "Skunk" Baxter: Guitar, pedal steel, steel guitar
James Booker: Piano on "Down In The Track"
Arlo Guthrie: Autoharp, harmonica
Eddie Guzman: Conga, timbales, and other percussion instruments
Jack Hale: Trombone
Milt Holland: Tabla, marimba, pandeiro, and other percussion instruments
Wayne Jackson: Trumpet
Andrew Love: Tenor saxophone
James Mitchell: Baritone saxophone
Novi Novog: Viola on "Black Water"
Bill Payne: Keyboards
Ted Templeman: Percussion
Anno: 1974
Label: Warner Bros. Records
Genere: Rock, Blues Rock, Soft Rock

Tracklist:
01. Song to See You Through (Johnston) 4:06
02. Spirit (Johnston) 3:15
03. Pursuit on 53rd St. (Johnston) 2:33
04. Black Water (Simmons) 4:17
05. Eyes of Silver (Johnston) 2:57
06. Road Angel (Hartman, Hossack, Johnston, Porter) 4:49
07. You Just Can't Stop It (Simmons) 3:28
08. Tell Me What You Want (And I'll Give You What You Need) (Simmons) 3:53
09. Down in the Track (Johnston) 4:15
10. Another Park, Another Sunday (Johnston) 4:27
11. Daughters of the Sea (Simmons) 4:29
12. Flying Cloud (Porter) 2:00