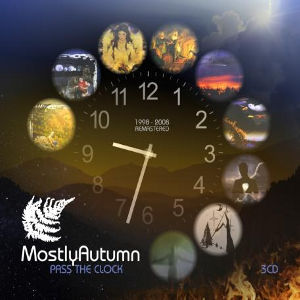 I
Mostly Autumn
continuano a pubblicare cd quasi in sordina, cercando di stare lontani dal music business, suonando dal vivo quando ne hanno voglia, non per il solo motivo promozionale e pubblicano cd quando e come vogliono, non a caso hanno una loro etichetta personale. Dopo oramai ben più di dieci carriera ed una serie di lavori affascinanti e qualche live, la band cerca di tirare le somme, ma non con la solita raccoltina che racchiude una manciata di brani del loro meglio, ma con ben tre cd, cercando di accontentare prima di tutto i loro fans.
Sì perché
Pass The Clock
racchiude anche molte chicche (non brani inediti, ma una sapiente rimasterizzazione), o meglio è suddiviso con un criterio logico.
Il primo cd
Something For The Spirit
racchiude alcuni dei migliori brani della band, quelli più lineari e se vogliamo anche più semplici e scorrono via così "
Distant Train
", "
The Second Hand
" e "
Storms Over Still Water
" tre splendidi brani dove la voce di
Heather Findley
e le chitarre di
Bryan Josh
, creano un sound solare e melodico. Il secondo cd
Something For Campfire
, mette invece in risalto la parte acustica e più incline al folk della band e brani come "
Winter Is King
" e "
Steal Away
", ne sono da esempio, C'è poi il terzo cd
Something For The Candlelight
, dove ci sono i brani più lunghi e dove l'amore verso i Pink Floyd e la musica celtica esce più allo scoperto. Brani come "
Passengers
", "
Hollow
" e "
Glass Shadows
" sono una parte importantissima della discografia della band.
Una visione ampia del fascino della musica dei
Mostly Autumn
, tutta racchiusa in
Pass The Clock
, un triplo cd che esce per la loro etichetta discografica, ma stavolta con distribuzione Universal.
80/100


Bryan Josh: Chitarre, tastiere, voce
Heather Findley: Voce, chitarra, bodhran, tambourines
Iain Jennings: Tastiere, synth, hammond, voce
Olivia "Livvy" Sparnenn: Cori
Anne-Marie Helder: Chitarre, flauto, tastiere, voce
Andy Smith: Basso
Liam Davisons: Chitarre, voce
Gavin Griffiths: Batteria
Anno: 2009
Label: Mostly Autumns Records/Nova/Universal Music
Genere: Progressive Rock

Tracklist:
CD1: SOMETHIG FOR THE SPIRIT
01. Fadin Colours
02. Ghost In Dreamland
03. Pure White Light
04. Distant Train
05. Answer The Question
06. Evergreen
07. The Second Hand
08. Storms Over Still Water
09. Paper Angels
10. Tearing At The Faerytale
11. Pass The Clock

CD2: SOMETHING FOR THE CAMPFIRE
01. Yellow Time
02. Prints In The Stone
03. The Eyes Of The Forest
04. Boundless Ocean
05. Shinding
06. Blackey Ridge/When Waters Meet
07. Winter Is King
08. Which Wood?
09. At Lost To Rivendell
10. Simple Ways
11. On The Wings Of Gwaihir
12. Steal Away
13. Bitterness Burnt
14. Shrinkimg Violet
15. Goodbye Alone

CD3: SOMETHING FOR CANDLELIGHT
01. The Night Sky
02. Silver Glass
03. Half The Mountain
04. Carpe Diem
05. Hollow
06. Passengers
07. The Gap Is Too Wide
08. Glass Shadows
09. Heroes Never Die