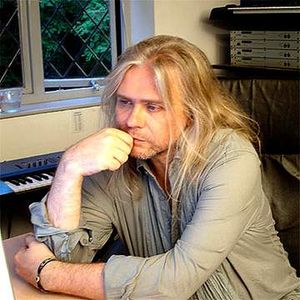 Other articles on A&B:
- "Walk on Water EP" review.
- "She (2CD Version)" review.
- "She (DVD Version)" review.
- A&B -
Hello, Clive and welcome on A&B; it's a very great pleasure and an honour for us to meet you.
- Clive Nolan -
Hi… Thanks for talking to me.

- A&B -
Well, Clive, can you tell us how Caamora's idea was born, can you tell us about She project and about your meeting with Agnieszka Swita ?
- Clive Nolan -
I met Agnieszka Swita by chance. She came to my house with a mutual friend of ours. We got talking and I found myself telling her all about the idea of a rock opera about 'She'. This is something I had carried in my heart for a very long time, since discovery the story as a child. Agnieszka was very enthusiastic about it, so we agreed to work on the story. She comes from Poland, but within a few weeks of our first meeting, she had returned to England and we were recording the first demo (Which became the 'Overture').

- A&B -
How much time did you take to write musics and texts, for the staging and organizing the debut in Katowice? I think it was a very long and difficult work: can you talk about the making of "She" ?
- Clive Nolan -
In many ways, 'She' was 30 years in the making…;) Since I saw the film of the story. But the main period of work was about three years, from the day I met Agnieszka. I spent two years writing material, and making recordings with Agneiszka to test out and develop the material. Then, we recorded the album version over the last summer, but in reality it took about 5 months! It was a major project… many musicians and singers passing through.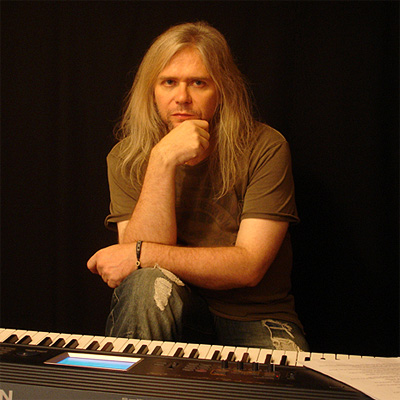 - A&B -
Please, tell us about the debut's night. You are a veteran artist, howewer was there any particular emotion during the night of 31th October 2007 or has it been an ordinary show ?
- Clive Nolan -
There was a lot of emotion! This is my 'life's work'! There was so much stress and focus making this whole album and performance happen, it was hard to believe that we were actually in the theatre perfroming 'She'. I was particularly moved by the reaction of the audience… a standing ovation of over 5 minutes!...;)

- A&B -
I admit that, in the beginning, I listened 2CD version and the work, though very fine and pleasant, gave to me a feeling, as something lacking; then, when I finally saw DVD, all became more complete and surely more satisfying. I noticed DVD, and then live vision of the opera, permits to create more feeling between music, history and watcher; it surely communicates a sample collection of greater sensations and surely I estimated the whole work more and more. Do you think it will possible to make "She" a reproposable show on world theatres ?
- Clive Nolan -
My greatest wish would be for 'She' to be performed as a musical in it's own right. It doesn't need 'Caamora' any more…;) Perhaps a performance in Italy?...;)

- A&B -
In my humble opinion some songs of "She" are little masterpieces, songs as "Ambush", "Cursed", "The sand of time" ... is there any particular moment of "She" that is very important and lovable for you and why ?
- Clive Nolan -
Wow… difficult question. All the music means so much to me. One of my favorite songs on the night was 'The Veil'… it was great fun to sing.
- A&B -
MetalMind is supporting your job very well: do you think small labels, but capable to dare and promote more thoroughly, can rappresent the future for a "no-mainstream" music like Prog Rock, in front of big multinational labels ?
- Clive Nolan -
I appreciate any help and enthusiasm we can get! It gets harder with every day to sell CDs, and the support of Metal Mind is essential to the future of 'She'. With all the downloading and bootlegging, I reckon the majors will just give up and concentrate on selling mobile phones!

- A&B -
Progressive Rock in Italy is always been a prolific genre; there are lots of past italian bands, but also present ones, having great influence: is there some band you gladly remember, some band you think it could inspire you in the past or you like to listen?
- Clive Nolan -
Well… I don't know many Italian bands, but I know Italy was good for Genesis at the beginning of their time…;)
My influences are more likely to be film music writers like Danny Elfman, John Williams and Ennio Morricone, of course.

- A&B -
Many works, many projects, but has Clive Nolan a private life, too ? a family ? friends ? passions ? hobbies ? well, what do you do when you don't have your fingers on a keyboard ? do you like reading ? watching films ? travelling ?
- Clive Nolan -
Well, I love films… and reading. Mainly it's music though. I am a bit of a hermit…;) I have also written a novel. I would love toh ave an excuse to write more.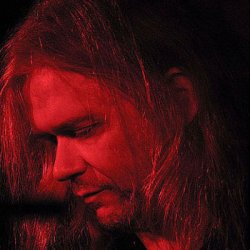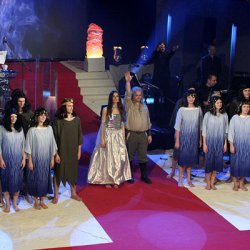 - A&B -
Nowadays Internet is present nearly everywhere: do you think it could be a good way to promote and make the music known, both for emergent bands and for established ones as yours ?
- Clive Nolan -
The internet is a powerful medium… both for good and for bad. It promotes bands and music and labels… but, thanks to downloading etc, it's killing them as well.

- A&B -
What are your future plans ?
- Clive Nolan -
I need to get on with the next Arena album! I am also thinking about the next Caamora project… could be a bih one!...;)

- A&B -
Clive, thank you very much for dedicating your time to A&B and thank you for the fantastic music you always gave us with Pendragon, Arena and now with Caamora, and all other projects in which you played.
- Clive Nolan -
My pleasure… thanks for the interview!