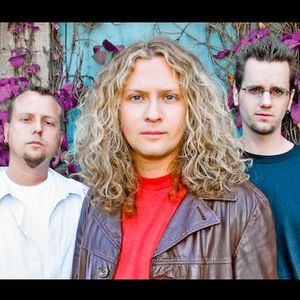 An interview with The Limit; USA trio, living in New Haven, Connecticut, in the shops now with their new album entitled "Reinventing the Sun".
Mark Daniel: Voice, guitars
Bob Chmiel: Drums
Todd Grasberg: Bass
Other articles on A&B:
- Reinventing the sun review.
- A&B -
Hi Mark, I'm Salvatore of A&B, it's great having you here and I welcome you on the A&B's pages and in Italy ... virtually of course ... but I hope one day The Limit could play here on tour.
- Mark Daniel -
Thank you Salvatore, it is a pleasure to meet you and I must say you have a great site!

- A&B -
Thank you very much Mark, do you know Italy ? do you know any Italy's Hard/Prog Rock bands ? Have you ever come here in the past ? or in other European countries ?
- Mark Daniel -
I am very familar with Italy and Italian progressive rock bands.
As an artist, I must always seek out music that excites me. Italian Progressive band's such as "Banco del Mutuo Soccorso," "Murple," "Alusa Fallax," whose work "Intorno alla mia cattiva educazione" is nothing short of a masterpiece, is very exciting.

I have been in Europe in the past, love it very much and greatly anticipate my return with "THE LIMIT" on our 2008 tour.

- A&B -
So, Mark, can you give us a brief history of The Limit's project ?
- Mark Daniel -
We started as a band 7 years ago and connected instantly with our musical taste. Since then we released 3 Tour sponsored E.P.'s (only available on the Tour and select locations in the USA,) a full length CD in USA in 2004 and now our 1st international release "Reinventing The Sun".
We have had the honor of touring with Steve Vai, Living Colour and many more artist that have helped shape our life and music.

We have played over 1,000 shows within those 7 years, playing 300 plus in 2004-2005 tour year. We tour quite alot and are now preparing for one of the largest tasks we have had to date, a USA and European Tour.

Mark Daniel
Photo courtesy by: Rich Cianci - www.richcianci.com



- A&B -
Well, can you talk about the making of your album "Reinventing the Sun" ? how did you approach the songwriting, who has written the music ? who has written the lyrics ? How a The Limit's song bears, do you start with a guitar riff, with a lyric over a melody or how else ?
- Mark Daniel -
It took over one year to make this album. We started in the Summer of 2006 and got the mastering done October of 2007. Half of the songs were written on tour and the other half writen while we were recording making the album.
I am the primary songwrtiter (lyrics, melody and music) but the songs are formed a variety of ways and would not sound like THE LIMIT without the 3 of us. Sometimes a guitar line, a melody, a lyric, great drum groove, great bass line.
It all depends on which song, My preferred way of writing is to play the song simply on piano or guitar with vocals and when the arrangement and music is added it brings the song to life. There are so many ways to write, I find myself trying to hear what direction the art is taking me.

- A&B -
Why "Reinventing the Sun", what does this album mean for you ?
- Mark Daniel -
"Reinventing the Sun", is my life. It means everything to me and is a direct look into my soul, love, pain and happiness. These songs are about my family and friends; both who are still alive and those who have passed away. It will always be a part of me.

The album title has been misinterpreted in some magazines as "reinventing rock...rock music...." It is much more personal. The sun gives us life and I happen to find life through many challenges by reinventing myself. This album is a testament to what I have become as a person, what we have become as THE LIMIT, and where we are heading in the future.

- A&B -
Your music is "fresh" and "old" at the same time, a good mix of masterpiece band like Led Zeppelin, UFO etc ... and more present music, are you agree ?
- Mark Daniel -
I do agree and I feel that it comes from our passion for realisim in music. We do not like over production and gloss or to stick with modern trends. The music we play has to be music we love. We do not try to sound like anyone. Some musical techniques will present themselves that have been used by the masters. We will always be on the quest to stay as original and honest as possible without studio tricks.



Photo courtesy by: Rich Cianci - www.richcianci.com
- A&B -
Are you satisfied with the results obtained with "Reinventing the Sun" ?
- Mark Daniel -
I am increadibly proud of the album but also feel that every album of music created and published by me is a learning experince. I love the album with all my heart and soul and look forward to applying all I have discovered to the next album.

- A&B -
What do you think about the actual Hard/Prog Rock scene ? Is there a particular band, in the past or in the present that you love and that inspired you ?
- Mark Daniel -
I think the hard rock prog scene is one of the best scenes in the world.
It is built by people who play, love and live for the music. I can't see how anything can get better than that. The first few prog/hard rock bands that have moved me are: Rush, Yes & King Crimson. Since I heard them I am hooked and am a die hard fan for life of great prog hard rock music.

- A&B -
Do you enjoy being onstage, in front of people ? or do you prefer to stay in studio to play and write new songs ?
- Mark Daniel -
I absolutly love being on stage. The music is alive on stage. The studio is great too though. Both experiences are very different with approach and result, I am glad I do not have to choose between them.
Photo courtesy by: David Apuzzo - www.davidapuzzo.com
- A&B -
Who are you outside the life of musician ? What do you do when you don't play ? (Books, Cinema, Music, Travel, Whatever ...)
- Mark Daniel -
Books are great, I am in the middle of "On War,' by Carl Von Clausewitz and Sun Tzu's "The Art of War." Cinema is fantastic too, I am a fan of Johnny Depp and Robert Downey Jr.'s acting. I love being on tour, travel is great.

- A&B -
70's, 80's, 90's or new century's music .. Can you choose one ?
- Mark Daniel -
If I had to choose, it would be 90's. The 90's had it all like Live King Crimson albums, the grunge movement which had great bands like Soundgarden. The 90's seemed like a time where everything mixed very well, even the hip hop was really good.

- A&B -
What do you think about the Internet and the music relation, is it a good vehicle to promote your music ?
- Mark Daniel -
It is the best! People like you and I, from 2 different countries can share the same love of music. The internet brings people together. It is the Best!

- A&B -
What are The Limit's future plans ?
- Mark Daniel -
We owe everyone tour in both USA and Europe maybe Asia. Tour in 2008; new album to start in 2008 and release it in 2009 sometime. We will be very busy and making a lot of music.

- A&B -
Mark, it's been a pleasure to have you answering our questions. Thank you very much for sharing your time with us and let me give to you, as a conclusion, the chance to tell us the final word ... a greet for us and for our readers ?
- Mark Daniel -
Grazie Salvatore, "Artist and Bands.org " e Italia.
Molto amore, Ciao.
Il vostro amico,
Mark Daniel
THE LIMIT